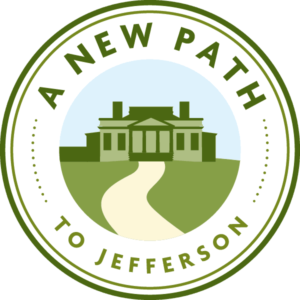 Poplar Forest is where Jefferson shaped his thoughts and cultivated the ideas that would influence a new nation. Today, our goal is to shape the long-term future of Poplar Forest, cultivating Jefferson's vision to be shared and enjoyed more widely than ever before. Through your generosity, we can create a new path to Jefferson, exploring his enduring legacy in new, intriguing and revelatory ways.
Your support makes a difference. No matter the size of your gift, you'll be a part of making the Poplar Forest experience blossom and grow for years to come. Take a moment to make your donation or learn more about the initiatives and activities your gift will support below.
CAPITAL CAMPAIGN DONOR BENEFITS
Your gift, no matter the size, directly helps Poplar Forest reach its goal of creating "A New Path to Jefferson." All donors who give $50-99 will become "Portico Level" members of Poplar Forest and receive two tickets to the opening celebration for Poplar Forest's new parkway, along with the following benefits:
Name and contribution listed on the Poplar Forest giving page
Membership card good for unlimited admission for 2 adults and dependent children (excluding special events)
A subscription to "Notes on the State of Poplar Forest," Poplar Forest's semi-annual newsletter
Monthly e-newsletter, which will include insider updates, as archaeologists uncover the new paths to Jefferson
10% Museum Shop discount
Donors with gifts of $100–249 will become "Poplar Level" members and will receive the above bulleted benefits. At this level, your two tickets to the parkway opening also include access to an exclusive donor reception.
Donors with gifts of $250 or more will become "Jefferson Level" members and will receive the above bulleted benefits. At this level, you will receive four VIP tickets to the parkway opening, featuring a sneak preview of the new road, audiences with special guests and a gourmet reception.
Recent Donors
December 2 2020

$500.00

Kirsten Sihlanick

November 3 2020

$50.00

Gene & Debbie Walker

July 31 2020

$100.00

In memory of
Beverly Whitten

April 13 2020

$250.00

RODNEY LORENCE
Support Our Other Initiatives