Capital Campaign
We are entering our final campaign push as construction of the Poplar Forest Parkway nears completion. Help us meet our goal today!
$4,379,112.00
raised of $4,480,000.00 goal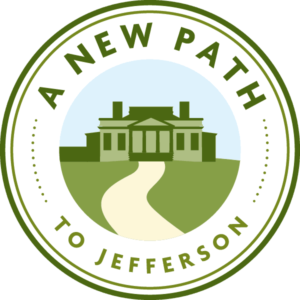 Construction of our new entrance road continues, with great progress made! The timber bridge over the Tomahawk Creek is now underway, with bridge construction expected to take an additional four to five weeks. Construction of two pedestrian bridges along the trail and paving will occur over the remaining 10 weeks (approximately) of the project. A triple row of 45 tulip poplars was planted at our new entrance in early April and will have a stunning visual impact as visitors enter Poplar Forest, especially as they mature over time.
We extend our sincere gratitude to all of our donors and friends who have supported the project—both for your financial support and for your patience. With $4 million in hand or pledged, we are within $200,000 of our construction costs to include:
A main trail paralleling the new entrance road
An elegant timber bridge at the Tomahawk Creek crossing
A connecting trail linking the current road (the lower portion of which will become a walking trail) to the new trail
Our Board of Directors, staff and landscape architects have worked hard to reduce project costs without sacrificing important design elements that will make a significant impact on the visitor experience and aesthetics.
Your support makes a difference as we enter this final push to meet our goal. No matter the size of your gift, you'll be a part of helping Poplar Forest reach its goal of creating "A New Path to Jefferson." Take a moment to make your donation or learn more about the benefits of giving below.
CAPITAL CAMPAIGN DONOR BENEFITS
All donors who give $50-99 will become "Portico Level" members of Poplar Forest and receive two tickets to the opening celebration for Poplar Forest's new parkway, along with the following benefits:
Name and contribution listed on the Poplar Forest giving page
A subscription to "Notes on the State of Poplar Forest," Poplar Forest's semi-annual newsletter
Monthly e-newsletter, which will include insider updates, as archaeologists uncover the new paths to Jefferson
10% Museum Shop discount
Donors with gifts of $100–249 will become "Poplar Level" members and will receive the above bulleted benefits. At this level, your two tickets to the parkway opening also include access to an exclusive donor reception.
Donors with gifts of $250 or more will become "Jefferson Level" members and will receive the above bulleted benefits. At this level, you will receive four VIP tickets to the parkway opening, featuring a sneak preview of the new road, audiences with special guests and a gourmet reception.
Recent Donors
June 13 2022

$50.00

June 13 2022

$100.00

June 12 2022

$100.00

June 6 2022

$150.00
Support Our Other Initiatives