By Danielle Browley
So many great and interesting things are happening at Thomas Jefferson's Poplar Forest. We've been finding so many things artifact and feature wise in the field. The uncovering of the original carriage turnaround is coming along smoothly and we're excited about what's been found.
Monday: The cleaning and excavating of the "C" layer of the units continued out at the carriage turnaround. Many more cobblestones were appearing in the units that we had been excavating. Along with finding more cobblestones, we found more artifacts, including short cut nails and pieces of iron wire. Two new units were also marked off and opened by the front of the house.
Tuesday: Excavation of the units continued and more artifacts were discovered. These artifacts included more nails, possible bone fragments of animals, and more pieces of iron. Another interesting discovery were random pieces of brick that continued to appear within the four connected units that we were excavating. From that discovery rose the question of whether those bricks were simply rejected from the construction of the house and added to the turnaround, or if the bricks had been placed in the turnaround for decorative purposes.
Wednesday: The process of excavation continued and we took group photographs of our units. The topsoil layer was removed from the units in front of the house. Several artifacts were found in those units, however most were determined to be backfill from previous excavations that included materials used in the restoration process of the Poplar Forest retreat house.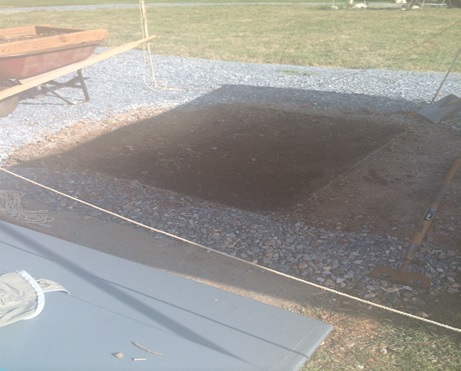 Thursday: Today was spent in the archaeology lab with the laboratory supervisor Jenn Ogborne. We practiced labeling artifacts as well as cataloguing with the archiving program on the computers. We also used Surfer, a computer program that allows you to map and show trends of artifacts. We also learned about the GIS program that allows you to map sites and import pictures that you've taken of an area.
Friday: HAPPY INDEPENDENCE DAY! Today was a fun-filled day of activities at Poplar Forest. Many different venues had stations at Poplar Forest. These venues included historic re-enactments of British and American army recruiters for the revolutionary war, 18th century toys and games, tons of food, pony rides, a live potter, and even a blacksmith. The archaeology department at Poplar Forest had a station that allowed people to try their hand at the process of cross-mending. The field school was a "live exhibit" for the day as many people approached us curious about what we were digging up and its significance to the plantation itself. This was truly a week that had the perfect combination of hard work and fun. Only one more week of field school is left.