Virtual Scavenger Hunt
Hey kids! Put your research skills to the test as you set out on Poplar Forest's virtual scavenger hunt.
How it works:
We've planted clues throughout our website that will take you on a quest for knowledge all about Thomas Jefferson and his retreat home here at Poplar Forest. After reading the clue, search for the right information on the pages of our website. You'll know you've found the next clue when you see this photo of Thomas Jefferson and his granddaughter Cornelia—as dolls!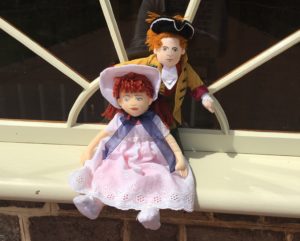 Here's your first clue:
Jefferson considered himself a farmer by profession and continuously searched for progressive farming methods.

Find Jefferson where the cash crops of Poplar Forest are discussed and see how Jefferson weighed the pros and cons of certain crops.
Good luck!