History
Thomas Jefferson inherited 4,819 acres of land and 11 enslaved men, women, and children at Poplar Forest through his father-in-law, John Wayles in 1773. The property's name, which predates Jefferson's ownership, reflects the forest that once grew here. Several stately poplars in the front of the home welcome visitors today.
The crops grown, harvested, and sent to market by enslaved workers provided Jefferson with significant income. The land not used for crops became the perfect setting where he could pursue his passion for reading, writing, studying and gardening after retiring from public life.
In the early years of his ownership, Jefferson managed Poplar Forest from afar, hiring overseers to manage day-to-day duties, as he practiced law and served in a series of government offices. He and his family, however, did spend two months here in 1781 when they left Monticello to elude British capture at the end of the Revolutionary War. During this visit, Jefferson compiled much of the material for his only book, Notes on the State of Virginia, while he was probably staying at the overseer's house.
In 1806, Jefferson traveled from Washington to supervise the laying of the foundation for the octagonal house we see today. When his presidency ended in 1809, Jefferson visited the retreat three to four times a year, staying from two weeks to two months at a time. His visits often coincided with the seasonal responsibilities of the working plantation. He also oversaw the ornamentation of the house and grounds, and the planting of his vegetable garden. Family members, most often two granddaughters, Ellen and Cornelia Randolph, often traveled to Poplar Forest with him beginning in 1816.
Jefferson made his last trip to Poplar Forest in 1823 when he settled his grandson, Francis Eppes, on the property. Ill health prevented further visits. In 1828, two years after Jefferson's death at age 83, Eppes sold Poplar Forest to a neighbor.
The design of Poplar Forest is highly idealistic in concept with only a few concessions to practicality—it was so perfectly suited to Jefferson alone that subsequent owners found it difficult to inhabit and altered it to suit their needs. In 1845 a fire led the family then living at Poplar Forest to convert Jefferson's villa into a practical farmhouse. The property was privately owned until December 1983 when a nonprofit corporation began the rescue of the landmark for future generations. Visitors today see the house as reconstruction, restoration and preservation, are in progress.
Poplar Forest Historical Timeline
1745
"Poplar Forest" first mentioned in early land records
1749
"Poplar Forest" appears on early land plat
1773
Jefferson visits Poplar Forest for the first time in September after his wife inherits the 4,819 acre plantation and 11 enslaved people following the death of her father, John Wayles
1776
Jefferson writes the Declaration of Independence
1779
Jefferson drafts the Virginia Statute for Religious Freedom
1781
Jefferson and family in seclusion at Poplar Forest after British invasion of Monticello; works on Notes on the State of Virginia, his only published book
1782
Jefferson's wife, Martha, dies
1784
Jefferson is appointed Minister to France
1790
Jefferson is appointed Secretary of State by President George Washington
1801
Jefferson begins term as the third President of the United States
1803
Jefferson approves negotiations for the Louisiana Purchase and launches the Lewis & Clark expedition
1804
Daughter, Maria Jefferson Eppes, dies
1806
Construction begins on the octagonal retreat at Poplar Forest
1809
Jefferson retires from public life and stays in the main house at Poplar Forest for the first time
1812
Construction of the octagonal house is considered basically "complete"
1814
Begins expanding the house at Poplar Forest by adding a service wing
1816
Interior plastering is complete; Jefferson brings his granddaughters, Ellen and Cornelia Randolph, to Poplar Forest for the first time
1818
Jefferson founds the University of Virginia
1819
Illness sweeps through the enslaved community at Poplar Forest between 1818-1820 affecting many and killing at least 3 adults
1823
Grandson Francis Eppes and wife Elizabeth begin residing at Poplar Forest; Jefferson visits for the final time in the spring
1825
Fire causes minor damage to house
1826
Jefferson dies July 4th at Monticello at age 83; Francis Eppes inherits Poplar Forest and 1,074 acres. The fate of most of the enslaved population is unknown
1828
Eppes sells Poplar Forest and moves his family and an unknown number of enslaved people to Florida; William Cobbs becomes the new owner, continuing plantation operations on the property
1840
William Cobbs' daughter, Emma marries Edward Sixtus Hutter; the property remains in the Cobb-Hutter family until 1946
1864
The Battle of Lynchburg during the Civil War takes place; many of the enslaved people on the property leave with Union Soldiers
1865
Civil War ends; 13th Amendment ratified abolishing slavery in the United States
1946
The Hutters sell Poplar Forest to the James O. Watts family
1979
Poplar Forest sold to Dr. James A. Johnson, High Point, N.C.
1984
Property sold to the nonprofit Corporation for Jefferson's Poplar Forest
1986
Poplar Forest opens for public visitation on a regular basis
---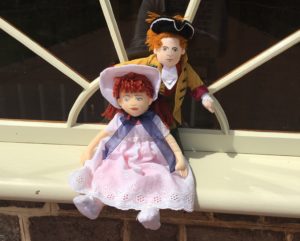 The building process for Poplar Forest was documented by Jefferson in numerous letters and it is through these letters and other historical materials the Corporation has been able to restore the house back to Jefferson's design. 

Find Jefferson where the documentation and research process is explained.